Resolve your Dispute with Mediation or Arbitration and Avoid a Costly Lawsuit
A legal dispute doesn't have to escalate to a lawsuit. A neutral third party who understands both the legal and the psychological aspects of your situation can help you reach a solution quickly and efficiently. Sensitive, effective dispute resolution empowers you, solves your problem and enables you to get back to your life.
Mediation, Arbitration and Med/Arb ( a combination of the first two) are less expensive and quicker than litigation, and give you a real voice in the outcome.
Litigation, on the other hand, can be costly and painfully slow. Litigation adds to misunderstandings by separating people and drowning out their voices.
Mediators and arbitrators take the time to find the best solutions for the parties involved. Even smart and caring judges often don't have the time to develop a deep, personal understanding of the people who appear in their courtrooms.
"You took an impossible situation, totally f*&ked up, and turned it around.  I don't know how you got that back-stabbing prick to get real, but you did and you saved both of us from the train wreck lawsuit he was dragging us into.  I'm blown away by what you did!  He even said he was glad you'd set things straight." — TA
A Comprehensive Approach to Resolving Disputes
Steven understands how to resolve conflicts. As a retired attorney, a licensed counselor, a former member of the New Mexico Bar Alternative Dispute Resolution Committee, and a former client himself, he knows what works and what doesn't. He knows that each family and situation is unique and needs its own solutions.
Many mediators and arbitrators are either lawyers or psychotherapists. Each profession brings its own strengths and weaknesses. Steven combines decades of experience in law and psychology to bring you the best of both professions, resulting in complex disputes settled fairly. And as a former mediation/arbitration client himself, Steven brings special compassion and insight to resolving complex disputes.
Does Mediation and/or Arbitration really work?
Many of our successful dispute resolutions begin with two people who are positive the other person is dead wrong and probably crazy. Or they can't stand each other. Through the resolution process, we find common ground and craft creative solutions to end your dispute and let you get on with your life.
We don't claim to create friendships from feuds. We do, however, create fair, lasting solutions that everyone can live with.
We Get Results
Steven has ended fights that other Mediator/Arbitrators could not.
He understands the deep psychological dynamics of conflict.
He knows how poorly worded legal documents and agreements can spark conflict.
He hears the underlying problem, knows how to get people to hear each other and finds a creative resolution to seemingly impossible conflicts.
"Hey, that's a deal with you.  It's a good thing you've gotten your hands dirty in the trades.  A pin-headed guy who hires someone else to change his light bulb would have missed the point – or cost us a freakin' fortune to figure out what the hell was really going on, what this whole damn project was about.  No offense, I know you've got a lot of school too." — RM
Which method is best for you?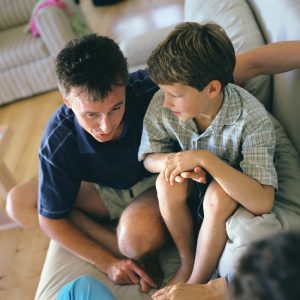 We offer three ways to settle disputes. Each saves you money and time. In each, you get to participate more in the process and creating the solution than you would in court.
Mediation
In mediation, we help you see new possibilities and let you come to your own solutions. You and the other party will contribute your own ideas to resolve your dispute. At the end of the process, you get a resolution of your own design, not one imposed by a judge.
Arbitration
In arbitration, the arbitrator makes the decision. This method is best when parties can't, or don't want to, work it out for themselves. Arbitration can be less formal and quicker than going to court. As your arbitrator, Steven hears both sides of the dispute, gets to the heart of the matter, and makes a fair decision.
Mediation/Arbitration
The best of both methods, med/arb starts with mediation and switches to arbitration if the parties can't reach a solution. The mediator/arbitrator has heard the issues, understands the parties and can efficiently come to a fair decision, ending the dispute.
Divorce and Family Disputes
Whether you're starting a divorce or your family is still in turmoil post-divorce, let us help you cut through the drama and restore peace. Steven has decades of experience resolving family disputes fairly and protecting children.
Real Estate and Construction Disputes
Steven has almost 40 years of extensive experience in real estate matters and the construction trades (he built his own home – built it himself, didn't hire others to build it for him). He has worked with realtors, buyers, sellers, lenders, home owners associations, and contractors. He combines common sense with knowledge of the practical and legal aspects of real estate and construction related disputes, visiting job sites and properties to see things first hand when necessary.
Business Disputes
Business is about people – customers, suppliers, employees, investors and managers. For personnel problems within a company, or among partners, shareholders or directors, or for disputes with suppliers or customers, Steven hears all sides, applies innovative theory and gets quick, practical, efficient and fair resolutions, so businesses can get on with … their business.
Call 720-270-0070 or email to find out how mediation and arbitration can help you to resolve your dispute quickly and efficiently.
(Due to COVID-19, online conference and phone appointments are available.)